Memory Care

Living with Alzheimer's or other memory related impairments is an intensely personal journey. While the loss of memories can be one part of that journey, too many people become disconnected from their lives, loved ones and themselves along the way.
At Foundation Park we strive to reinforce your loved one's sense of self. Specially trained associates will leverage years of experience with memory-related impairments to identify where your loved one is on their journey, and use that knowledge to meet them at their point of need with caring support and comfort.
We emphasize your loved one's abilities, not their disabilities. We prefer to integrate, not isolate.
You and your family can be sure to find specialized care, comfort and reassurance in as environment that incorporates care and service with the warmth and comfort of home.
Best Life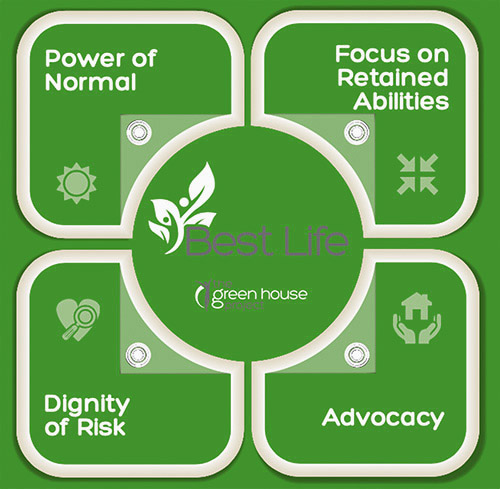 Similar to the Green House model's impact on long-term care, Best Life is a disruptive force that addresses the stigma of dementia head on and explores the often unrecognized biases that shape interactions of PLWD.
Following are the four principles of Best Life:
Power of Normal. Segregating people living with dementia from normal society only serves to increase the stigma of dementia. Best Life strives to create a culture of normalcy that enables individuals to live in the least restrictive environment possible and experience culturally typical activities. In Best Life, the person's needs are more important than an institutionally dictated task that could impede their ability to experience normalcy.
Focus on Retained Abilities. First and foremost, Best Life dispels the myth that living with dementia means you do not have retained abilities and talents and cannot continue to experience and learn new things. Traditional beliefs, behaviors, and systems reinforce the perception that people living with dementia are "unable" or "childlike," while Best Life focuses on the value of real relationships with children, pets, and nature.
Dignity of Risk. A focus on "surplus safety" can take away choice and dignity from people living with dementia. Fears and misperceptions about dementia perpetuate the notion that it makes people disabled and in need of restraints, be they chemical, physical, or locked "units." Only by addressing these fallacies, can we ensure person-directed living that is relationship rich. Best Life promotes dignity in each person retaining the right to take risks.
Advocacy. Best Life broadens the role of team members in advancing the belief that no one should be defined by their diagnoses. Focusing on individuals' retained talents paves the way to advocating for that PLWD have expanded experiences and choices, as well as the right for rehabilitation.